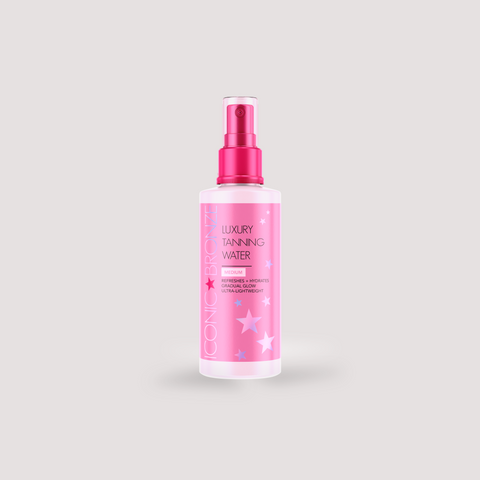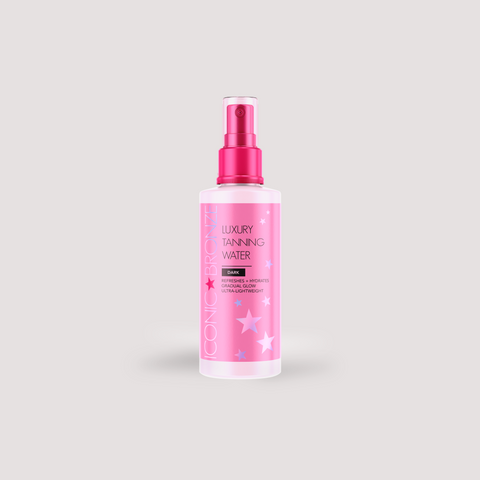 Iconic Bronze
Luxury Tanning Water
Show more
Description
Get the perfect golden tan all year round with Iconic Bronze Luxury Water, available in Medium and Dark shades. This luxurious tanning water is infused with essential vitamins that refresh and hydrate your skin while creating a beautifully healthy glow. Unlike other tanning products that dry out your skin, the weightless formula of the Iconic Bronze Luxury Water ensures that your skin stays moisturised and nourished, making it safe to use on sensitive skin types.
This versatile tanning water is transparent in colour and can be used on both your face and body. The convenient spray applicator mists the formula effortlessly across your skin, allowing for even coverage and a streak-free finish. The expert ingredients in the formula work together to quench your skin, leaving it soft and supple. The Iconic Bronze Luxury Water dries quickly and is non-sticky, leaving you with a flawless, natural-looking tan in just a few hours that perfect for those who want to achieve a beautiful, sun-kissed glow. Whether you're looking for a subtle hint of colour or a deeper, more bronzed look, the Iconic Bronze Luxury Water is the perfect product. Get ready to be the envy of everyone with your radiant, healthy-looking tan!
Directions for use
Close your eyes and spritz the mist all over your face and neck. Buff into the skin using the Iconic Bronze Kabuki Brush. Avoid contact with water after applying. Your gradual glow will develop in 2-6 hours. You can apply daily or as desired to build a tailor-made depth of colour and achieve a beautifully hydrated glow.
Key Features
-Hyaluronic Acid Instantly Hydrates
-Infused with Vitamins B, C & E
-Refreshes and Hydrates
-Ultra-Lightweight, buildable glow
-Quick and easy to apply
-Antioxidants ensure an even and streak-free finish
-Quick Drying Tan developed in 2-6 hours
-Vegan & Cruelty-free
Ingredients
Aqua (Water), Dihydroxyacetone, Propanediol, Butylene Glycol, Sodium Hyaluronate, Niacinamide, Tocopherol, Ascorbic Acid, Caprylyl Glycol, Ethoxydiglycol, Phenoxyethanol, Disodium EDTA, PEG-40 Hydrogenated Castor Oil, Sodium Hydroxide, Parfum (Fragrance), Benzyl Salicylate, Hexyl Cinnamal, Hydroxycitronellal, Linalool
Product Details
Formula: Mist
Shade: Medium / Dark
Size: 100ml
Perfect For: For all skin types