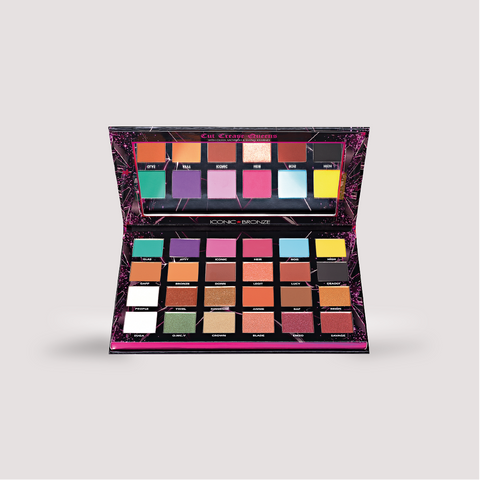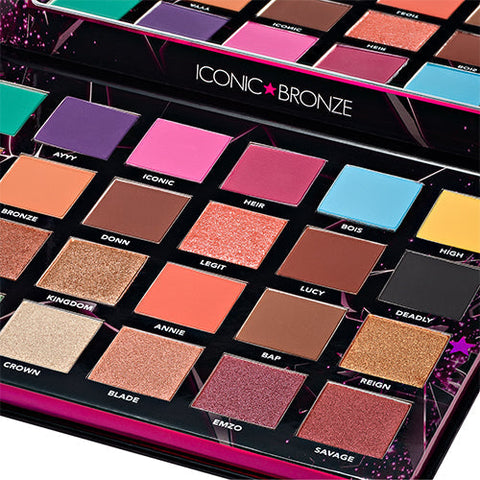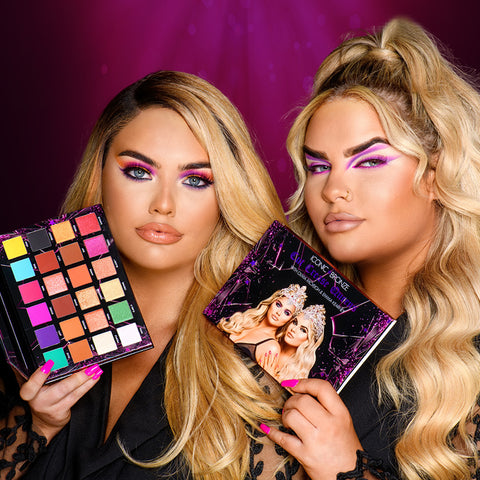 Iconic Bronze
Cut Crease Queens Eyeshadow Palette X Olivia McVeigh & Emma Kearney
Show more
Description
A collection of 24 hyper pigmented shades, this palette experiments with natural nudes and earthy metallics to bring you an ultra-buildable eyeshadow collection. These buttery shades complement every complexion, perfect for no makeup or the ultimate cut crease. 
Containing a carefully curated mix of matte and shimmer eyeshadows, spanning shades of Bronze, Lucy and Bap with hypnotically beautiful, foil-effect glimmers in shades of Crown, Blade and Reign. This edit will quickly become your go-to palette - trusted to take you from coffee to cocktails with just a quick flick of a brush.
The Cut Crease Queens Palette features a blendable, velvety texture with intense colour pigment and major staying power -   this versatile palette has everything you need to create striking day and night time looks. Unlock your creativity with these showstopping shades.
Directions for use
Step 1: Primer
Apply Cut Crease Queens Primer all over your lid with a brush, sponge or fingers.

Step 2: Base
Blend your colour of choice into your eyelid crease. Blend Blend Blend!

Step 3: Cut Your Crease
Using a flat concealer brush, apply your concealer to cut your crease. Clean up lines with a thin brush.

Step 4: Sparkle
Apply a shimmer or sparkle shade to the inner eye, working outwards until you have the perfect blend.

Step 5: Eyeliner
Apply your favourite eyeliner.

Step 6: Lashes
Finish your look with lashes and mascara and you're the perfect Cut Crease Queen.

Key Features
-24 hyper pigmented shades
-Natural nudes and earthy metallic tones
-Ultra-buildable eyeshadow collection
-Buttery shades to complement every complexion
-Perfect for no makeup or the ultimate cut crease
-Mix of matte and shimmer eyeshadows

Ingredients
INGREDIENTS
GLAS, AYYY, ICONIC, HEIR, BOIS, HIGH, GAFF, BRONZE, DONN, LUCY, DEADLY, ANNIE, BAP
TALC, ZEA MAYS (CORN STARCH, HDUTRIMETHYLOL HEXILACTONE CROSSPOLIMER, DIMETHICONE, SILCA, ETHYLENE/ACRYUC ACID COPOLYMER, ZINC, STEARATE, OCTADODECY. STEAROY. STEARATE, CAPRILYL GLYCOL, ETHYLHEXY GLYCERIN, PHENOXVETHANOL, POLOXAMER 338, TITANIUM DIOXIDE CI 77891,IRON OXIDES Ci 7749), IRON OXIDES C: 77472, IRON OXODES CI 77499, RED 6 Cl 15850, RED 7 LAKE Ci ISASO, RED 28 LAKE CI 45410, YELLOW S LAKE CI 19140, YELLOW 6 LAKE CI 15985, BLUE 1 LAKE CI 42090, ULTRAMARINES CI 77007
PEOPLE
MICA, TALC, TITANIUM DIOXIDE C/ 77891, OCT/LDODECILSTEAROYLSTEARATE, DIMETHICONE,ZINC STEARATE, CAPRYLYL GLYCOL, ETHYLHEXTIGLYCERIN, PHENOXYETHANOL, TIN OXIDE, IRON OXIDES CI 77492, YELLOW/ S LAKE CI 19140
TWIRL
MICA, TALC, IRON OXIDES CI 77491, OCTYILDODECYL STEARON. STEARATE, DIMETHICONE, ZINC STEARATE, CAPRILAL GLYCOL, ETHYLHEXYLGLYCERIN, TITANIUM, DIOXIDE CI 77891, PHENOXYETHANOL, IRON OXIDES C 77492, IRON OXIDES CI 77499
KINGDOM
MICA, TALC, IRON OXIDES CI 77491, SYNTHETIC FLUORPHLOGOPITE, OCTYIDODECYL STEAROYL. STEARATE, DIMETHICONE, ZINC STEARATE, TITANIUM DIOXIDE CI 77891, SILICA, CAPRYLYL GLYCOL, ETHYLHEXYIGLYCERIN, PHENOXYETHANOL, IRON OXIDED CI 77492, IRON OXIDES CI 77499, TIN OXIDE
REIGN
MICA, TALC, TITANIUM DIOXIDE C 77891, IRON OXIDES CI 77491, OCTYLDODECYL STEAROYL STEARATE, DIMETHICONE, ZINC STEARATE, SILICA, CAPRYLYL GLYCOI
ETHYLHEXYLGLYCERIN, PHENOXYETHANOL, RED 7 LAKE CI 15850, IRON OXIDES CI 77499, YELLOW 5 LAKE CI 19140, TIN OXIDE
LEGIT
MICA, TALC, CALCIUM ALUMINUM BOROSILICATE, OCTYLDODECYI. STEAROYL STEARATE, DIMETHICONE, ZINC STEARATE, TITANIUM DIOXIDE C 77891, IRON, OXIDES CI 77491, RED 6 CI 15850, IRON OXIDES C/ 77492, CAPRYLYL GLYCOL, ETHYLHEXYLGLYCERIN, PHENOXYETHANOL, TIN OXIDE, RED 7 LAKE CI 15850
SUGA
MICA, TALC, TITANIUM DIOXIDE C 77891, CALCIUM ALUMINUM BOROSILICATE, ZINC STEARATE, DIMETHICONE, OCTALDODECYL STEAROYL STEARATE, SYNTHETIC, FLUORPHLOGOPITE, CAPRYLYL GLYCOL, ETHYLHEXYLGLYCERIN, PHENOXYETHANOL, TIN OXIDE
O.MC.V, CROWN
MICA OCTYLDODECYL. STEAROYL. STEARATE, ZINC STEARATE, CALCIUM ALUMINUM BOROSILICATE, HYDROGENATED POLYCYCLOPENTADIENE, CAPRYUC/CAPRIC, TRIGLYCERIDE, DIMETHICONE, TALC, HYDROGENATED PALM KERNEL GLYCERIDES, ISODODECANE, CAPRILYIGLYCOL, ETHYLHETYIGLYCERIN, HYDROGENATED
PALM GLYCERIDES, TIN OXIDE, TITANIUM DIOXIDE C 77891, CHROMIUM OXIDE GREENS CI 77288, IRON OXIDES CI 77491, IRON OXIDES CI 77499
SAVAGE, BLADE
MICA, OCTYIDODECYL STEAROYL STEARATE, ZINC STEARATE, SILICA, HYDROGENATED POLYCYCLOPENTADIENE, CAPRILC/CAPRIC TRIGLYCERIDE, DIMETHICONE, TALC, HYDROGENATED PALM KERNEL GLYCERIDES, ISODODECANE, CAPRYLYL GLYCOL, ETHYLHEXYGLYCERIN, HYDROGENATED PALM GLYCERIDES, TITANIUM, DIOXIDE CI 77891, IRON OXIDES CI 77491, IRON OXIDES CI 77499
EMZO
MICA, IRON OXIDES C 77491, OCTYLDODECYL STEAROYL STEARATE, TITANIUM DIOXIDE C 77891, ZINC STEARATE, HYDROGENATED POLYCYCLOPENTADIENE, CAPRILIC/CAPRIC TRIGLYCERIDE, DIMETHICONE, TALC, HYDROGENATED PALM KERNEL GLYCERIDES, ISODODECANE, CAPRYLYL GLYCOL, ETHYLHEXYLGLYCERIN, HYDROGENATED PALM GLYCERIDES

Product Details